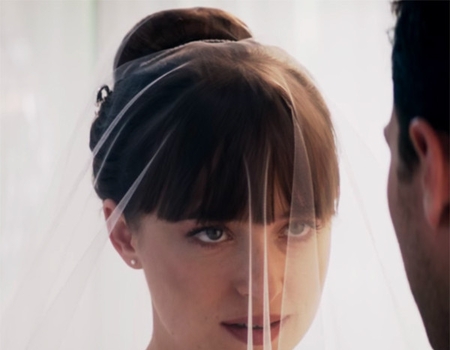 Just when you thought shooting a sex scene was awkward enough…Dakota Johnson had to superglue a thong to her body.
That's right—the leading co-star of the famed Fifty Shades franchise recently got very real about what shooting those mostly nude BDSM scenes with fellow actor Jamie Dornan really entailed. For her on-screen beau, a "little pouch" was involved. As for Johnson, she avoided showing everything with the help of stick-on strapless thongs. 
"It's super not glamorous—it's really unsexy," she told MarieClaire.com. "It's not glue, but it's sticky. They're, like, basically if it were a nipple pastie, but underwear. But it's only sticky at the top, it's not sticky the whole way."
As a result, Johnson needed some kind of reinforcement for her flimsy makeshift underwear. "It would also come off because the adhesive would wear out, so then they would superglue it to my body so that it wouldn't fall off. And I would wear two of them," she dished to the website. "It's not painful, I mean, it's barely anything. But I guess you have some sense of being covered. It's f–king bizarre."
You can say that again, Dakota! Meanwhile, Dornan recently got candid about his pouch or, as he liked to call it, his "wee-bag." "I wear a wee-bag," he told Jimmy Kimmel. "Well, that's an expression from where I'm from—a wee-bag. But it doesn't mean it's actually wee in size. I wear quite a big bag!"
To ease the discomfort that sometimes came with shooting such scenes, alcohol was involved. 
"Most of [our preparation] is just really figuring out exactly how were are going to accomplish the scene beforehand—so that there's not a lot of waiting around while we're both vulnerable," Johnson explained of the process to MarieClaire.com. "But, if something is very, very difficult, it's sometimes necessary to have a shot of something strong beforehand."
Hey, they don't call it the Red Room of Pain for nothing. 
(E! and Universal Pictures are both part of the NBCUniversal family.)