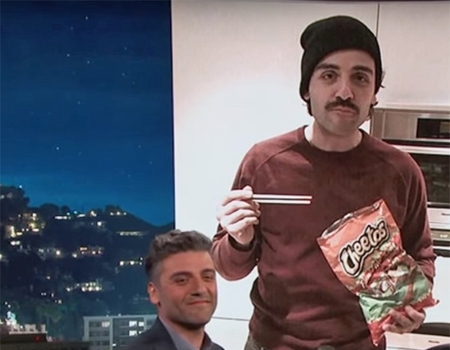 Oscar Isaac is a sexy snack who makes snacking sexy.
In 2016, a photo of the Star Wars actor sporting a mustache and eating Crunchy Flamin' Hot Lime Cheetos with chopsticks went viral. "Does This Photo of Oscar Isaac Eating Cheetos Still Make You Want to Sex-Bang Him, Y or N?" asked Jezebel.
In an appearance on Jimmy Kimmel Live! on Tuesday, Isaac finally responded to the photo.
"I really was into flaming lime Cheetos, which at the time, you couldn't get on the East Coast," he told Jimmy Kimmel. "It's just from here. Chili lime, it's a very Latino kind of thing."
"So I just did that and you know, I'm a sophisticated gentleman, so I didn't want to get the powder on my fingers," he continued. "So I went for the chopsticks."
In the photo, Isaac stands behind a kitchen counter bearing several boxes of cold and flu medications.
"I had a bad cold," the actor said. 
The mustache, he said, was for his character in the 2015 HBO miniseries Show Me a Hero.
Isaac's viral photo scored him some delicious freebies.
"I realized it was a big deal once I started getting huge boxes of lime Cheetos at home," he said.