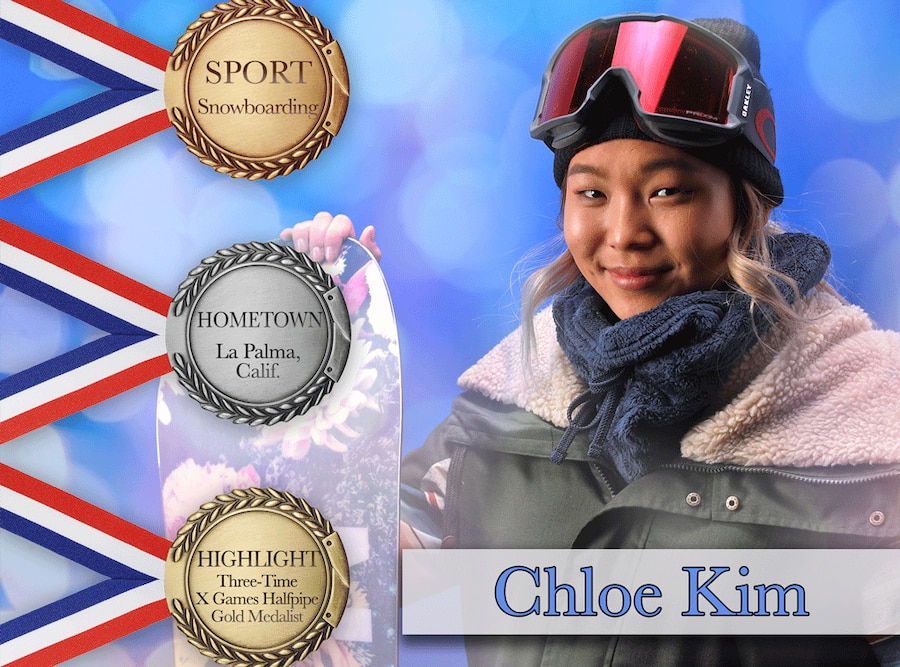 Getty Images; Melissa Herwitt/E! Illustration
They say age is only a number. But when an Olympic athlete is favored to win gold at just 17, it's time to pay attention.
While she mathematically qualified for the U.S. Olympics halftime team in 2014, Chloe Kim was unable to compete in Sochi became of minimum-age requirements set by organizers.
Fast-forward to today and the Southern California native is ready to make her country and family proud when she shows off her halfpipe skills.
"She rides with a tremendous amount of amplitude and carries a lot more speed than any other female in the halfpipe. She's in a whole different league," U.S. halfpipe coach Ricky Bower recently told NBC. "There's really no one that can ride like that."
With less than a month until the opening ceremonies, we're happy to introduce you to Chloe.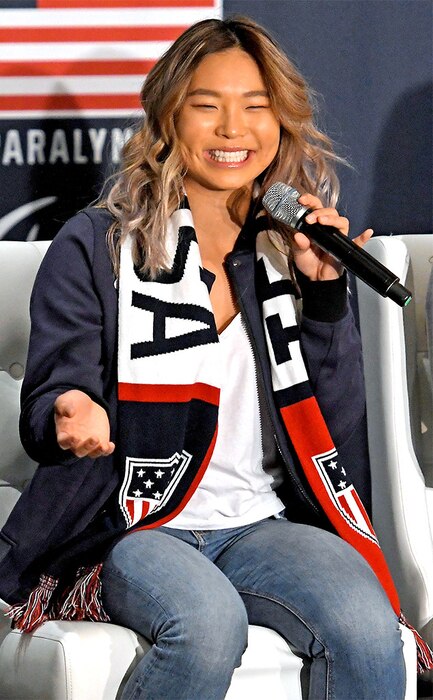 Gene Sweeney Jr./Getty Images
Cheat Days: Just because she's an Olympic athlete doesn't mean Chloe can't enjoy a guilty pleasure here and there. When browsing the snowboarder's Instagram, we spotted Chloe picking up take-out from California Pizza Kitchen. And when visiting Universal Studios Hollywood, she couldn't help but pick up a dessert from Voodoo Doughnut. Next time Chloe, it's our treat!
Sheer Genius: If there's one thing Chloe loves besides snowboarding, it may just be experimenting with new hair colors. In a span of two years, fans have noticed the 17-year-old play around with pink, blue and frosty purple colors. "Thank you Lydia," Chloe once wrote from the Michaeljohn Salon in Beverly Hills after debuting a fresh new style.
Family Matters: While simply being at this year's Olympics is enough to get any athlete excited, Chloe has the opportunity to compete in front of family that still lives in her parents' native country of South Korea. As for her parents, we've learned Chloe's father helped start the athlete on a snowboard at 4 years old. Later on, he would quit his job and drive Chloe several hours out to Mammoth Mountain each weekend so that she could train. He also helped serve as her coach early on.
History in the Making: If Chloe finds herself on a winning podium in PyeongChang, she could potentially become the youngest American to win an Olympic medal in snowboarding. According to NBC Olympics, the record is currently held by Kelly Clark who was just 18 when she took home a gold medal in 2002.
School Rules: In between training and traveling around the world, Chloe is busy at Mammoth High School where she studies with the Independent Learning Center. To further prove she's your typical teenager, we've also learned the Olympic hopeful loves playing acoustic guitar and loves shopping at Sephora.                                                          
The Winter Olympics begin February 8th on NBC.