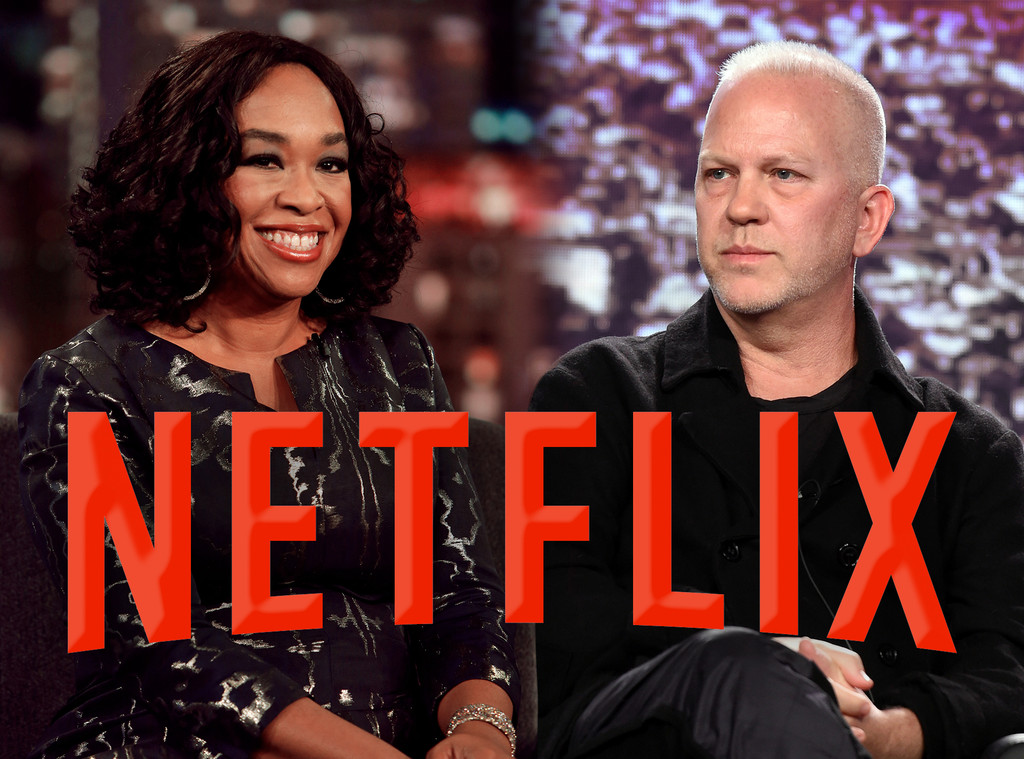 ABC; FOX; E! Illustration
Netflix is making moves.
As the streaming service amps up its mission to become the premiere content provider in television, the last six months have seen the company make history-making deals with visionary creators Shonda Rhimes and Ryan Murphy, locking the minds responsible for Grey's Anatomy and American Horror Story into exclusive contracts, effectively poaching them from all of broadcast and cable television for the near future. 
While we still need a third such deal to officially declare this a trend, Netflix's power moves certainly hint at the possibility that they're not done snatching up the medium's best and brightest. And the thought of that ought to have network execs shaking in their boots.
Six months ago to the day, Netflix sent its first shockwave through the television industry when they announced that they'd closed on a deal to bring Rhimes, whose unique brand of programming had become the face of ABC thanks to the wildly popular TGIT Thursday night line-up, and her Shondaland production single into the streaming service's family. Under the terms of her multi-year exclusive deal, she and producing partner Betsy Beers would produce new series and other projects for Netflix, effectively bringing her 15-year relationship with ABC Studios to an end.
"Shondaland's move to Netflix is the result of a shared plan Ted Sarandos and I built based on my vision for myself as a storyteller and for the evolution of my company. Ted provides a clear, fearless space for creators at Netflix," Rhimes said at the time. "He understood what I was looking for—the opportunity to build a vibrant new storytelling home for writers with the unique creative freedom and instantaneous global reach provided by Netflix's singular sense of innovation."
While Rhimes and ABC were both quick to reassure fans that the new deal would have no effect on the current TGIT line-up consisting of Grey's, Scandal and How to Get Away With Murder, as well as the upcoming Station 19 and For the People, it certainly pointed to a possible Shondaland-less future for the network. After all, Scandal is wrapping up its run this year and, despite Grey's Anatomy's almost otherworldly staying power, no show lasts forever. As ABC entered into this pilot season, for the first time in over a decade, it couldn't turn to Rhimes and her crew for new content.
And that's exactly the position FX and, to a lesser extent, Fox find themselves in now that the streaming giant has stolen Murphy away from his perch at 21st Century Fox. Similar to Rhimes' deal, Murphy's locks him in for the next five years, exclusively producing content for Netflix. And as with Rhimes, all of Murphy's shows currently on the air and in the planning stages will proceed as planned, with the auteur still directly involved with them for their lifespans, Fox confirmed with E! News. That means AHS, American Crime Story, Feud and the upcoming Pose, as well as new Fox hit 9-1-1, will live on, but it also means that, with Murphy responsible for 28 percent of FX's current and upcoming programming slate, network president John Landgraf is going to have to learn to lean on some other creators in the very near future.
"The history of this moment is not lost on me," Murphy said in a statement. "I am a gay kid from Indiana who moved to Hollywood in 1989 with $55 dollars in savings in my pocket, so the fact that my dreams have crystallized and come true in such a major way is emotional and overwhelming to me. I am awash in genuine appreciation for Ted Sarandos, Reed Hastings and Cindy Holland at Netflix for believing in me and the future of my company which will continue to champion women, minorities and LGBTQ heroes and heroines, and I am honored and grateful to continue my partnership with my friends and peers at Fox on our existing shows."
While Rhimes and Murphy's moves to Netflix might not have any immediate effect on viewers at home, aside from which platform they turn to for the pair's newest offerings, they—and the threat of more to possibly come—should have every network executive rethinking how they do business. And should that come to pass, broadcast television could feel very different in just a few years time.
With Murphy and, to a lesser extent, Rhimes proving to their respective networks why the old adage "Don't put all your eggs in one basket" exists, nearly every network has a Murphy or Rhimes of their own who, if we were betting people, we'd say are probably on Netflix's radar as well. CBS has sitcom king Chuck Lorre, responsible for The Big Bang Theory, Mom and Young Sheldon, who has already created one series, the Kathy Bates-starring Disjointed, for the streaming service and has another, the Michael Douglas-starring The Kominsky Method, on the way. The CW? Greg Berlanti, who's responsible the network's entire Arrowverse line-up, as well as Riverdale. (The popularity of Berlanti's shows on Netflix, primarily Riverdale, has already led to the streaming service ordering two seasons of the untitled Sabrina the Teenage Witch reboot.) NBC has Dick Wolf, whose Law & Order legacy has led to the rise of the Chicago franchise. And, to a lesser extent, Fox has Family Guy and The Orville creator Seth MacFarlane.
If the networks want to survive Netflix's seeming quest to not just become the premiere destination for TV content, but the only destination, they're going to have to start diversifying who they buy their programming from. And that could lead to one of two things. It could lead to the rise of the next generation of TV's uber-producers. If Netflix is snatching up all the current powerhouses, that makes room for smaller, fresher voices to come to the forefront on broadcast and, considering success breeds more success in this industry, create some mini-empires of networks their own.
Or, given that it stands to reason the network execs might now be a bit more hesitant to find themselves relying on one creator for a good chunk of their programming, this could be the beginning of the end of that particular practice. And that might not be such a bad thing.
If broadcast television wants to survive this unrelenting streaming invasion, it's going to have to get creative. The network execs are going to have to look beyond the one voice they've proven works for them and cultivate new ones. The Shonda Rhimes and Ryan Murphys of the future are out there, waiting to be discovered. Now it's up to the broadcast networks to rise to the occasion and find them.